2023 Pinarello Paris 105 11S Disc Carbon Road Bike in Black
£2,499.00
Built for endurance ready to conquer the victory
Paris is a bicycle developed and created to ensure maximun comfort without forgetting the racing spirit of every Pinarello bicycle.
The biggest difference from Dogma and Prince is in fact the Reach and Stack: a real balance found by our PinaLab technicians about a geometric solution that legthens the bike and makes it more comfortable to ride, without losing the reactivity, a key feature for a road bike.
Thanks to its particular characteristics, Paris reveals his distinctive focus on the long distance keeping the Pinarello DNA.
ITALIAN BB
COMFORT GEOMETRY
CARBON T600 UD
ASYMMETRIC FRAME
ONDA FORK
FORK FLAP
Geometries
| CE | CC | L | A [°] | B [°] | P | T | D | R | G | REACH | STACK |
| --- | --- | --- | --- | --- | --- | --- | --- | --- | --- | --- | --- |
| 425 | 430 | 492 | 75.25 | 70 | 415 | 119 | 67 | 52 | 373 | 347.4 | 512.4 |
| 450 | 460 | 509 | 74.5 | 70.5 | 415 | 124 | 72 | 52 | 373 | 357.5 | 524 |
| 470 | 490 | 525 | 74 | 71 | 415 | 136 | 72 | 52 | 373 | 367.2 | 537.2 |
| 495 | 515 | 536 | 73.75 | 71.5 | 415 | 145 | 72 | 47 | 373 | 373.6 | 549.2 |
| 510 | 530 | 545 | 73.5 | 72 | 415 | 155 | 72 | 47 | 373 | 377.5 | 560.5 |
| 525 | 545 | 555 | 73.25 | 72.25 | 415 | 167 | 72 | 47 | 373 | 381.6 | 572.8 |
| 540 | 560 | 565 | 73 | 72.5 | 415 | 181 | 72 | 47 | 373 | 385 | 587.1 |
| 560 | 580 | 577 | 72.75 | 72.5 | 415 | 205 | 67 | 47 | 373 | 388.9 | 605 |
| 590 | 600 | 590 | 72.5 | 72.5 | 415 | 226 | 67 | 47 | 373 | 392.9 | 625 |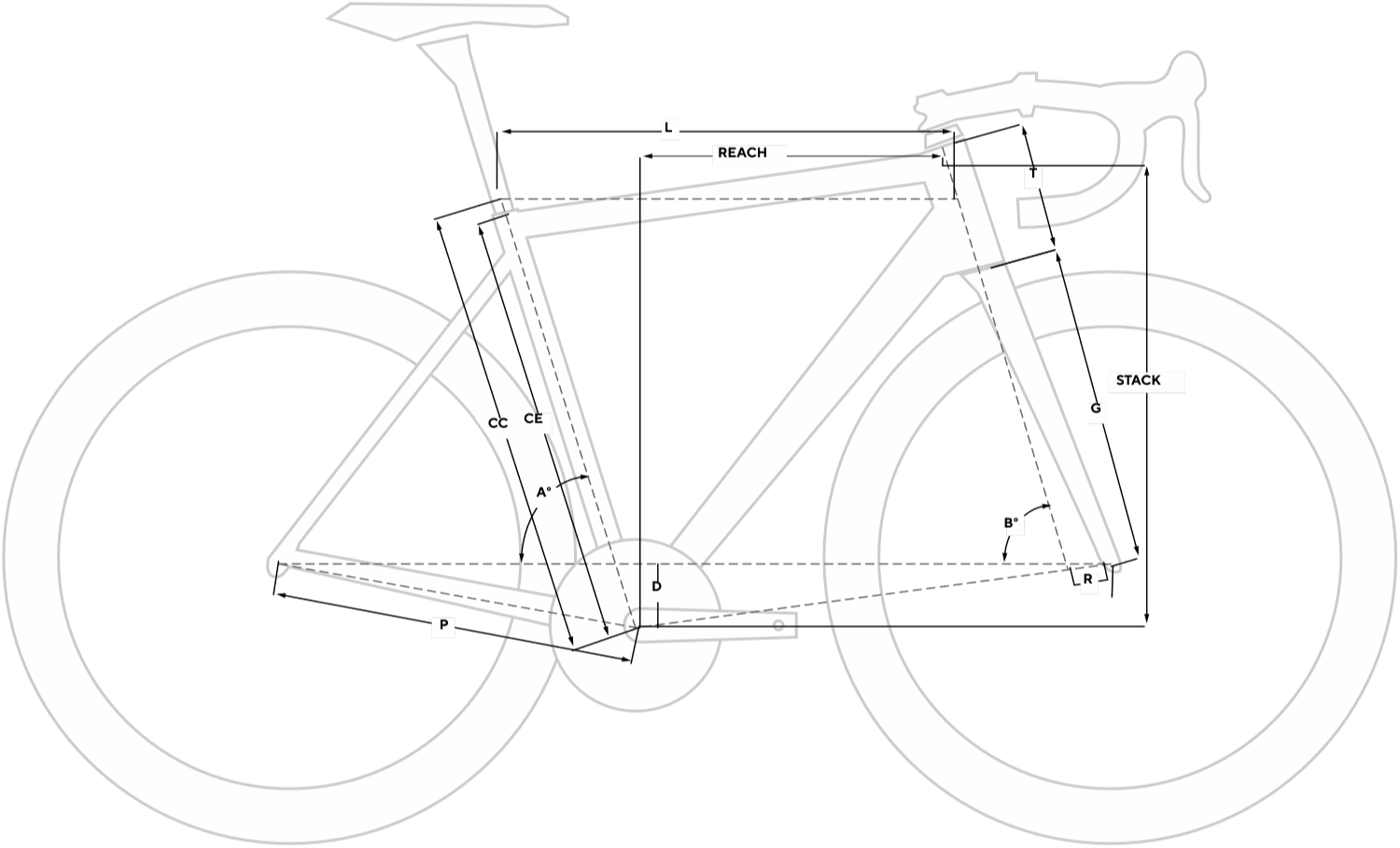 CE: SEAT TUBE CENTER – END, CC: SEAT TUBE CENTER – CENTER, L: TOP TUBE CENTER – CENTER, A[°]: SEAT TUBE ANGLE, B[°]: HEADTUBE ANGLE, P: CHAINSTAY, T: HEADTUBE, D: BB DROP, R: FORK RAKE , G: FORK HEIGHT, REACH, STACK
Available to order - please call